DigitsLaw is excited to announce the launch of our new Retainer Billing feature!  Now you have the flexibility to bill your clients however you see fit: retainer, hourly, reimbursement, etc.
Retainer Billing is a great way to ensure that you are always paid for your legal services. It also helps to streamline your billing process and free up your time so you can focus on your clients. With Retainer Billing, you can automatically generate invoices to send to your clients precisely when they are due. This not only saves you time but also ensures that you never miss a billing cycle.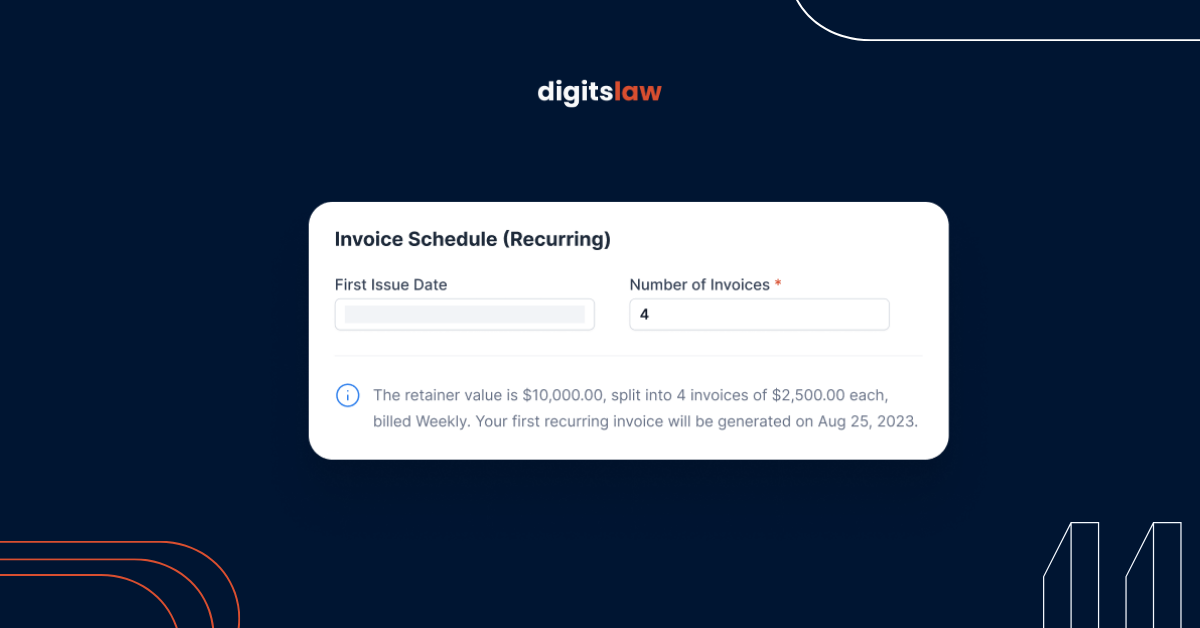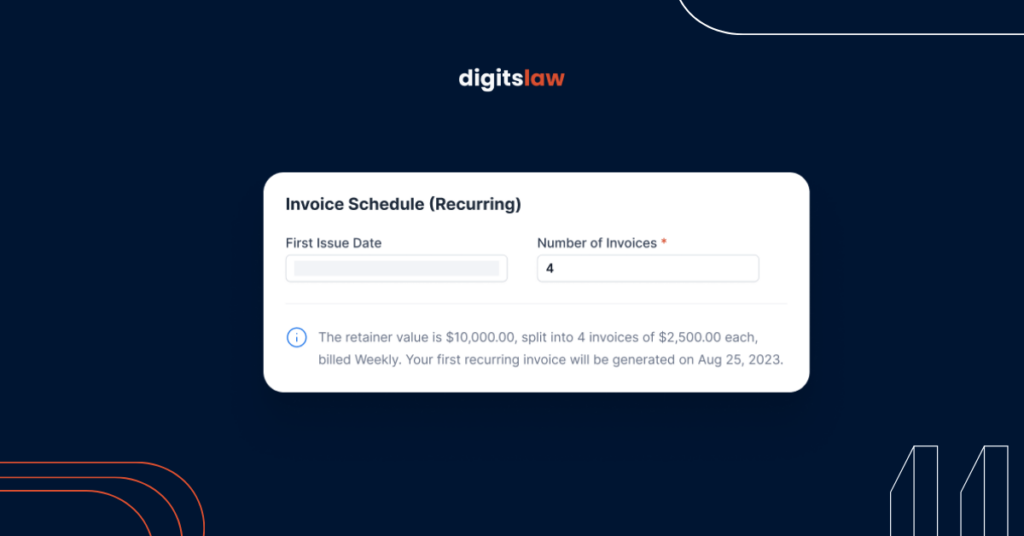 Key Benefits of Retainer Billing on DigitsLaw
Billing Flexibility: Choose from weekly, monthly, annual, or biannual billing options to match your clients' needs and your law firm's preferences.
Invoice Automation: Invoices are automatically generated at the end of each billing cycle, which saves you time and reduces errors.
Improved Cash Flow: Consistent and timely billing means you'll have a more stable cash flow, allowing you to focus on providing legal service to your clients.
Reduced Administrative Burden: With automation in place, you can redirect your time and resources toward more strategic aspects of your legal practice.
How to Get Started with Retainer Billing on DigitsLaw
Log in to your DigitsLaw account.
In the quick action tab, click on the " New Matter".
Scroll down to "Billing Information"
In the Matter Rate tab, click on "Retainer"
Enter your retainer details and select your invoice delivery option
Click on the "Save Matter" button.
That's it! DigitsLaw will take care of the rest.
Retainer Billing on DigitsLaw allows legal professionals to take charge of their financial processes, improve client relationships, and enhance overall legal practice efficiency. It's the perfect blend of billing flexibility and automation, providing you with the tools you need to succeed.
At DigitsLaw, we are committed to your legal practice success, and this new feature is just one more way we deliver on that promise. Stay tuned for more exciting updates and features from DigitsLaw as we continue to evolve to meet the needs of your digitized legal practice.
Ready to streamline your legal billing? Try Retainer Billing today!