Law firm online marketing uses digital channels to promote a law firm's services and attract new clients. It can be a cost-effective way to reach a wider audience and build a strong brand.
In the world today, where information is just a click away and potential clients turn to the internet to find legal services, online marketing has become an indispensable approach for law firms. Whether you're a solo practitioner or a large law firm, your law firm online marketing efforts can make a substantial difference in attracting clients, building your reputation, and ultimately, growing your legal practice.
The best law firm online marketing strategy will vary depending on the firm's specific goals, target audience, and budget. This guide, A Law Firm's Guide to Effective Online Marketing, is designed to help law firms get started on online marketing for their firm. From optimizing your website for search engines to engaging on social media, creating compelling content, and adhering to ethical considerations, we'll delve into the key elements of a successful online marketing strategy for law firms.
You can download the guide here.
DigitsLaw: The Legal Practice Management Software for Law Firms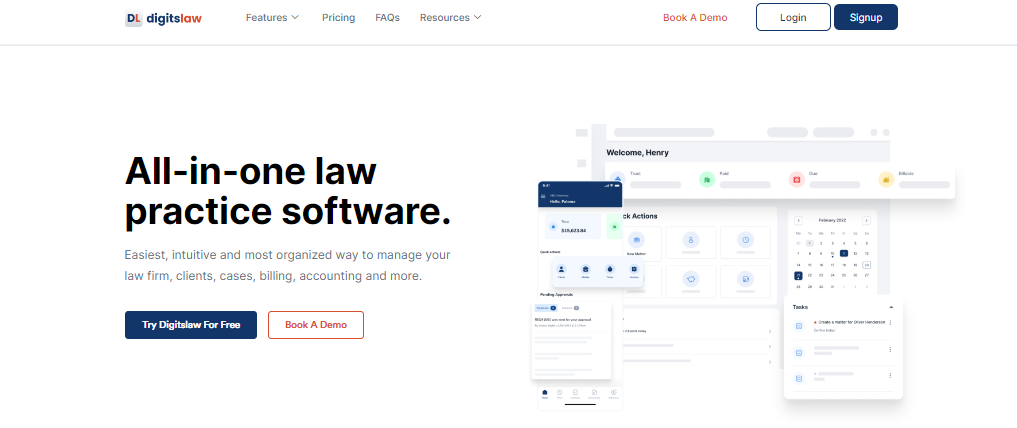 DigitsLaw is an all-in-one practice management software that streamlines and simplifies the day-to-day operations of a law firm. Whether you are a small firm or you have law firms in major cities, DigitsLaw can meet the unique needs of your legal practice. Our simple and intuitive tool offers a wealth of features that can make a substantial difference in the success and efficiency of your firm.
Here's how DigitsLaw can help your law firm scale:
Effortless Case Management: DigitsLaw simplifies case management by centralizing all your client information, documents, and communications in one secure location. This ensures that you have easy access to everything you need, right at your fingertips.
Time Tracking and Billing: With DigitsLaw, tracking billable hours and generating invoices is seamless. You can accurately record your time, expenses, and activities, allowing for transparent and error-free billing processes.
Conflict Check: DigitsLaw provides a robust conflict check system that assists law firms in maintaining ethical standards and preventing conflicts of interest. By incorporating DigitsLaw conflict check capabilities into your law firm's workflow, you can enhance your due diligence processes, reduce the risk of conflicts of interest, and uphold the highest ethical standards in your legal practice.
Client Collaboration: Foster better client relationships through DigitsLaw's client portal. Clients can securely access case information, share documents, and communicate with your firm, enhancing transparency and trust.
Legal Document Management: Say goodbye to the hassle of paper documents and disorganized files. DigitsLaw enables efficient document storage, organization, and collaboration, saving you time and reducing the risk of errors.
Secure and Compliant: DigitsLaw prioritizes security and compliance, ensuring that your client data and sensitive information are protected at the highest standards.
By leveraging DigitsLaw's capabilities, you can significantly reduce administrative overhead, minimize errors, and provide a more streamlined and responsive experience for your clients. It's a strategic investment that will pay dividends as your firm grows and prospers.