Choosing the right practice management software is crucial for law firms to enhance efficiency, streamline operations, and improve client services. PracticePanther vs Clio are two popular options that offer a range of features tailored to the legal industry. In this comparison, we'll delve into the key aspects of both platforms
PracticePanther
PracticePanther is a cloud-based practice management software designed for law firms and legal professionals. It offers a comprehensive suite of tools to help law firms streamline their operations.
Pros
PracticePanther has a built-in CRM system that can help users manage client relationships, track interactions, and stay organized.
Has a variety of client intake forms that users can use to gather information from clients when they first contact a law firm.
PracticePanther can automatically send invoice reminders to clients and text them when their invoices are due.
Cons
Limited Integrations compared to some other practice management software options. This will be a drawback if your firm relies heavily on specific third-party applications.
Customization options for workflows and templates can be complex and require technical expertise
Response time from customer support is not fast as desired. Impacting the resolution of urgent issues or questions.
PracticePanther Pricing
PracticePanther offers a range of pricing plans designed to cater to different sizes of law firms and their specific needs. Here's an overview of PracticePanther's pricing plans:
Solo plan: $49 per user per month
Essential plan: $69 per user per month
Business plan: $89 per user per month
What customers are saying about PracticePanther
When PP does NOT work, it fails horribly. This is a tool I use all day for business. When I have a technical problem – like today, none of my contacts are present, so I can't bill my time – I tried to call and the system hung up every single time. (Review from G2)
Some of the app features hang at times. Plus, it is bit heavy in term of GB. (Review from softwaresuggest)
Very time-consuming and not realistic if you have more than 1 client utilizing ledes billing. Also, their reporting is horrific as you cannot create your own customized report. (Review from capterra)
Clio
Clio is a cloud-based practice management software for lawyers. It offers a wide range of features to help lawyers manage their cases, track their time, bill their clients, and collaborate with their team
Pros
Provides seamless integration with an impressive selection of over 200 third-party solutions.
Clio offers the advantage of flat fees and LEDES (Legal Electronic Data Exchange Standard) billing options as part of its base subscription.
Free migration support as part of your solution's base subscription to ensure data and information are accurately transferred
Cons
Limitations in its accounting functionality compared to other case management software
Very little customization available, billing is not very good, and reminders and tasks are very basic
Clio's pricing can be a significant factor depending on the size of your firm and the features you require,
Document automation can be improved
Clio Manage Pricing
Clio Manage offers a range of pricing plans tailored to different needs. The cost varies based on the number of users, features, and support level required. Here's an overview of Clio Manage's pricing plans:
Starter plan: $49 per user per month
Boutique plan: $69 per user per month
Elite plan: $109 per user per month
Suite plan: $125 per user per month
What Customers Are Saying About Clio
It lacks a mobile app support which is a major disadvantage. It basically limits usability. (Review from softwaresuggest)
Seems that they are unable to actually solve this problem. Do NOT select their online payment option, if you have any institutional clients or any clients that prefer to pay by check, eCheck, or ACH (Review from Capterra)
Document automation is TERRIBLE and invoicing just means linking to Quickbooks. (Review from Softwareadvice)
Practice Panther vs Clio: Feature Comparison
When comparing practice management software, it's important to consider your law firm's specific needs and priorities. Some features may be essential for your firm's operations, while others may not be as important. The table below compares the features of Practice Panther and Clio Manage, so you can see how they stack up.
| | | |
| --- | --- | --- |
| Feature | PracticePanther | Clio |
| Calendar | Yes | Yes |
| Automated invoice reminders | Yes | No |
| Reporting | Yes | Yes |
| Document management | Yes | Yes |
| Online Payments | Yes | Yes |
| Mobile App | Yes | Yes |
| Client Portal | Yes | Yes |
| Customer Support | Yes | Yes |
| Billing & Invoicing | Yes | Yes |
| Trust Account Ledger & Reconciliation | Yes | No |
| Integrations | Yes | Yes |
| Text Messaging | Yes | No |
| Client Intake Forms | Yes | No |
| Lead Management | No | Yes |
| Activity Dashboard | Yes | No |
Each is missing some essential features that will be important for managing your legal practice, right? See why DigitsLaw's easy-to-use and robust feature set makes it the clear choice over Practice Panther and Clio.
DigitsLaw: A Better Choice For Your Legal Practice
Tired of having to manage two different subscriptions for your legal practice management solution? DigitsLaw is an all-in-one practice management software that streamlines and simplifies the day-to-day operations of a law firm.
Whether you're a solo lawyer, a small firm, or you have law firms in major cities, we can meet the unique needs of your legal practice. Our simple and intuitive tool offers the most organized way to manage your law firm, clients, cases, billing, accounting, and more
How does DigitsLaw compare to PracticePanther and Clio? We have highlighted the reasons why DigitsLaw is the leader in legal practice management software. Check the table below to understand why you should choose DigitsLaw for your legal practice
| | | | |
| --- | --- | --- | --- |
| Feature | DigitsLaw | PracticePanther | Clio |
| Conflict Check | Yes | No | No |
| Charts of Accounts | Yes | No | No |
| Expense Tracking | Client & Firm | Client Only | Client Only |
| Multicurrency | Yes | No | No |
| Bank Transfer | Yes | No | No |
| Expense Request | Yes | No | No |
| Budget Planning | Yes | No | No |
| Accounting Reports | Yes | No | No |
| Expense Approval | Yes | No | No |
| eSignature | Yes | Yes | Yes |
| Customize User Permissions | Yes | Yes | No |
| Client and Matter Import | Yes | Yes | No |
| SSO Login | Yes | Yes | No |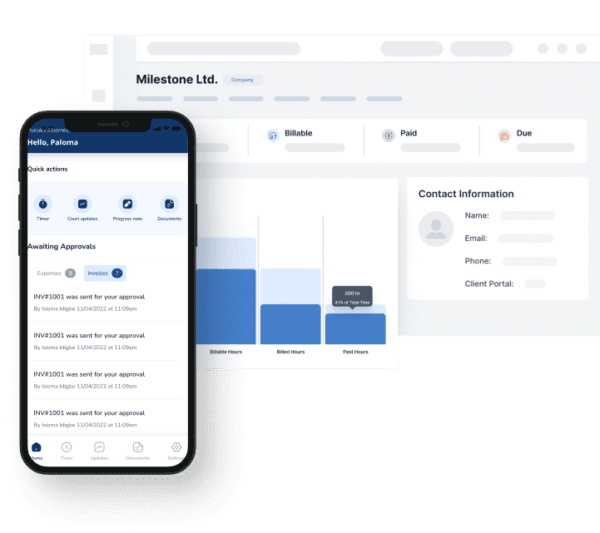 Our intuitive and user-friendly platform provides a centralized location to manage clients, cases, billing, accounting, and more. With DigitsLaw, law firms can enjoy a more organized and efficient workflow, freeing up time to deliver the best possible results to their clients.
Key features of DigitsLaw
DigitsLaw Pricing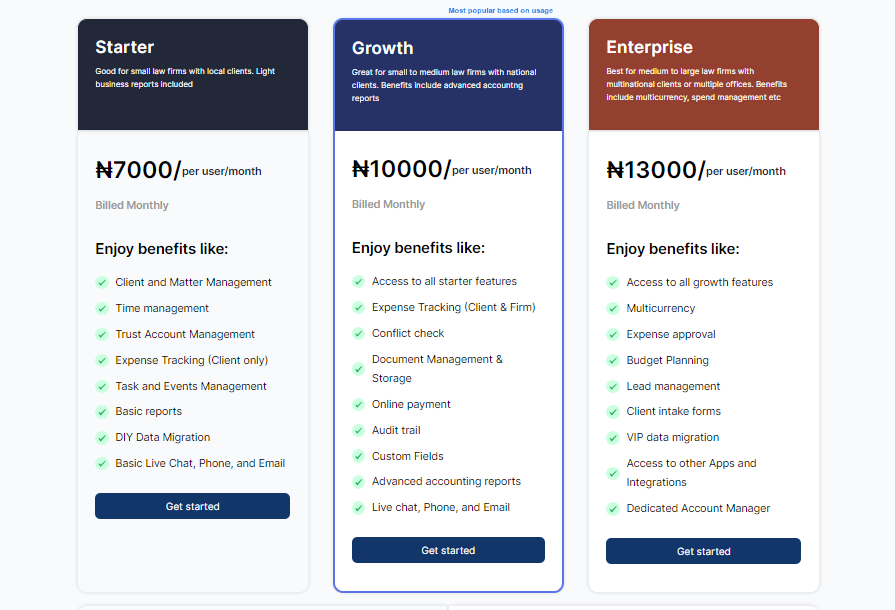 Free Trial: Try DigitsLaw for free for 7 days. No credit card is required. You'll have full access to all of our features, so you can see for yourself how we can help you streamline your legal practice and save time and money.
Demo: If you prefer, you can schedule a free demo with one of our experts. We will walk you through DigitsLaw and answer any questions you have.
How to Migrate From PracticePanther Or Clio To DigitsLaw
Want to migrate from your present legal practice management software to DigitsLaw? Here's how easy it is:
Book a free demo with our customer support team
Decide on the best plan that works for you
We will work with you and provide training on how to migrate successfully.